My tips to become pro at emails¶
This (too long) page list my tips for being a pro email user, and do not suffer or have phobias against receiving, sending or using emails. Emails have been there since the beginning of the web, even before the Internet (year 1970!), and they will stay there for a long time! My personal prognosis in 20 years: Facebook and Twitter will be dead and buried, but we will always have IRC, RSS feeds and emails!
Emails are an essential tools for your studies, your future works, whether registered in the digital world or not. Becoming a powerful and efficient email user is not so complicated, you just have to practice, and respect basic rules: rest ensured, you will progress!
But what are emails? Electronic mail (email or e-mail) is a method of exchanging messages (« mail ») between people using electronic devices. Email entered limited use in the 1960s, but users could only send to users of the same computer, and some early email systems required the author and the recipient to both be online simultaneously, similar to instant messaging. Ray Tomlinson is credited as the inventor of email. (on Wikipedia)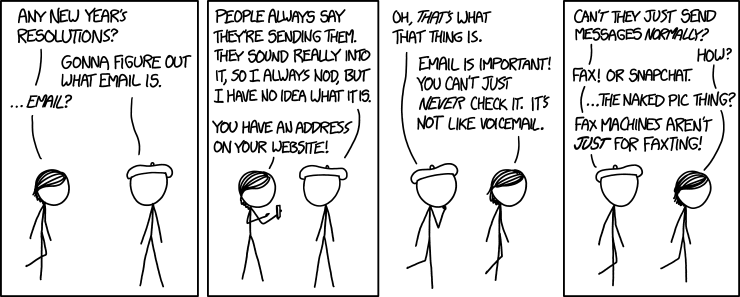 Indeed, with the coronavirus pandemic since 2020 (cf. coronavirus.en.html), We all had to make video calls, whether for the work (meetings, teachings or thesis supplies), for virtual aperitifs between friendly friendly, or for other occasions (marriage, etc.).
And before these tips, if you want to laugh for 15 minutes (in English), look at that (« This is what happens when you reply to spam email », by James Veitch at TedX 2016) :
---
---
---
---