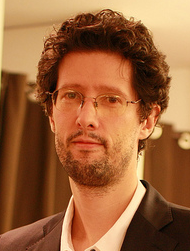 Blaise GENEST
CNRS Researcher (CR1)
in Computer Science at
IRISA in Team SUMO
Campus de Beaulieu
F-35042 Rennes Cedex
France
Phone: +33 (0)2 99 84 73 49
Fax: +33 (0)2 99 84 71 71
email: bgenest@irisaXXXREMOVEXXX.fr
formerly associated with IPAL (2010-2012)
UMI CNRS (Unité Mixte Internationale)
Institute for Infocomm Research (I2R)
1 Fusionopolis Way
#21-01 Connexis (South Tower)
Singapore 138632
I was also Adjunct Associate Professor at School of Computing, National University of Singapore (NUS) (2011-2013).


Research interests:
Model Checking: Automata and Verification, Distributed Systems, Games Theory.
Stochastic Systems: BioInformatics (Metabolic Pathways), Complex Systems.
Misc: Data Bases, Pattern Matching, Hardware Architecture.
Publications
( some words about rankings )

PhD Students:
Hugo Bazille (2016-)
Matthieu Pichené (2014-)
Bruno Karelovic (2013-)
former student: Debmalya Biswas (2006-2009)

Projects
STOCH-MC
(Primary Inverstigator)
ANR-13-BS02-0011-01.
Former projects:

PEPS INSIS (CNRS) Projet AABS (Primary Investigator).

Projet ActivDoc Funded by CREATE, Region Bretagne (WorkPackage Leader).

ANR-06-MDCA-005 DOCFLOW, (WorkPackage Leader).

Associated Team DST Funded by INRIA

ANR-06-SETI-xxx DOTS
I was Elected Member of the Comité National de la Recherche Scientifique, section 07 (now section 06 and 07) and CID 43 (now CID 51), 2008-2012
( I am not serving there anymore, but the new websites are website of the section 06 and website of the section 07 )

Teaching/Enseignement
Advanced Techniques of Verification (10h, Lecture, Master 2 in Rennes, 2015-2016)
Models of Concurrency (5h, Lecture, Master 2 in Rennes,2006-2007).
Verification (4h, Lecture, 4th year in Warwick,2005).
Programming in Java (42h, TP, DEUG 1,2003-2004).
Hardware Architecture (36h, TD, IUP 1, 2003-2004).