The problem with distro infra
Services are like people
Dozens of services, developed by many people
Each service has its own way of communicating with the rest of the world
Meaning that a service that needs to interact (yep, that's all of them) will need to implement a bunch of communication systems
Debian infrastructure comms
dak, our archive software, uses emails and databases to communicate. Metadata is available in a RFC822 format, no real API (the DB is not public either)
wanna-build, our build queue management software, polls a database every few minutes to know what needs to get built. No API outside of its database
debbugs, our bug tracking system, works via email, stores its data in flat files (for now), and exposes a read-only SOAP API
SCM pushes in the distro-provided repos (on alioth) can trigger an IRC bot (KGB), some mails. No central notification mechanism
Some kludges are available
UDD (the Ultimate Debian Database)
Contains a snapshot of a lot of the databases undelying the Debian infrastructure at a given time (even some Ubuntu bits)
A lot of cron-triggered importers
Useful for distro-wide QA purposes, not so much for real-time updates. Furthermore, consistency is not guaranteed
A proposed improvement: fedmsg
What is fedmsg?
Jesse Keating's talk in 2009 at NorthWest Linux Fest
A unified message bus, reducing the coupling of interdependent services
Services subscribe to one (or several) message topic(s), register callbacks, and respond to events
What you get (almost) for free
A stream of data representing the infrastructure activity (stats)
De-coupling of interdependent services
A unified, pluggable notification system, gathering all the events in the project

email
irc
mobile
desktop
…

badge/achievement system
live web dashboard of events
IRC feeds (#debian-fedmsg @ OFTC)
identi.ca and twitter accounts that get banned for flooding :-)
…
Actual message bus: 0mq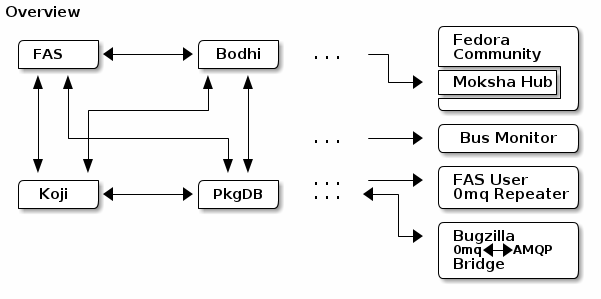 No broker, each service binds to a port and starts publishing messages
Other services connect to those ports and start consuming messages
Advantages
No central broker
100-fold speedup over AMQP
Main issue with a brokerless system: service discovery
Three options
Writing a broker (→ hello SPOF)
Using DNS (most elegant solution)
Distribute a text file
Simon Chopin implemented the DNS solution during his GSoC.
GSoC 2013
A lot happened during GSoC 2013, thanks to Simon Chopin's involvement:
fedmsg (and dependencies) packaging
adaptations to make fedmsg more distribution-agnostic
bootstrap of the Debian bus using mailing-list subscriptions, and on mentors.d.n
What then?
Packaging adaptations to make it easier to run the fedmsg components individually (separate packages, init scripts and systemd service files).
Proper package backports
Bus maintenance: keeping the software up to date
Some stats
Since July 14th 2013:
around 200k messages
155k bug mails
45k uploads
Latest developments
Datanommer (database component) has been packaged and is being deployed.
Debian services are widely distributed, firewall restrictions are sometimes our of our control: we need a way for services to push their messages instead of having the fedmsg-gateway pull them.
fedmsg-relay: non-standard port, non-standard protocol.
Currently pondering a way for services to push their messages through https.